Progressive Retinal Atrophy (PRA) Research

N.B. This is a different type of PRA to prcd-PRA for which there is already a DNA test available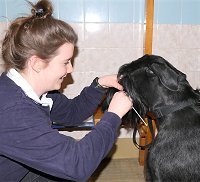 PRA is a blinding disease for which there is no treatment, so developing a DNA test would enable breeders and owners to test for this disease and eventually eradicate it from the breed. The AHT are currently using a whole genome sequencing approach (reading the entire DNA from an individual) to investigate PRA in the Giant Schnauzer. Data from PRA-affected cases will be compared against older clear Giant Schnauzers to try and identify the casual mutation for PRA in these dogs.
We are currently looking for Giant Schnauzers with clear eyes certified under the BVA/KC or ECVO scheme (and of course any affected Giants also).
Is your Giant Schnauzer 6 years or over? The AHT are offering free eye examinations for the first 20 dogs over the age of 6yrs!
Download AHT Information flyer
If you would like to help out or for more information, please contact Rebekkah Hitti at the AHT