CRIEDD – Eye Disease Project
Latest News From the Kennel Club/Animal Health Trust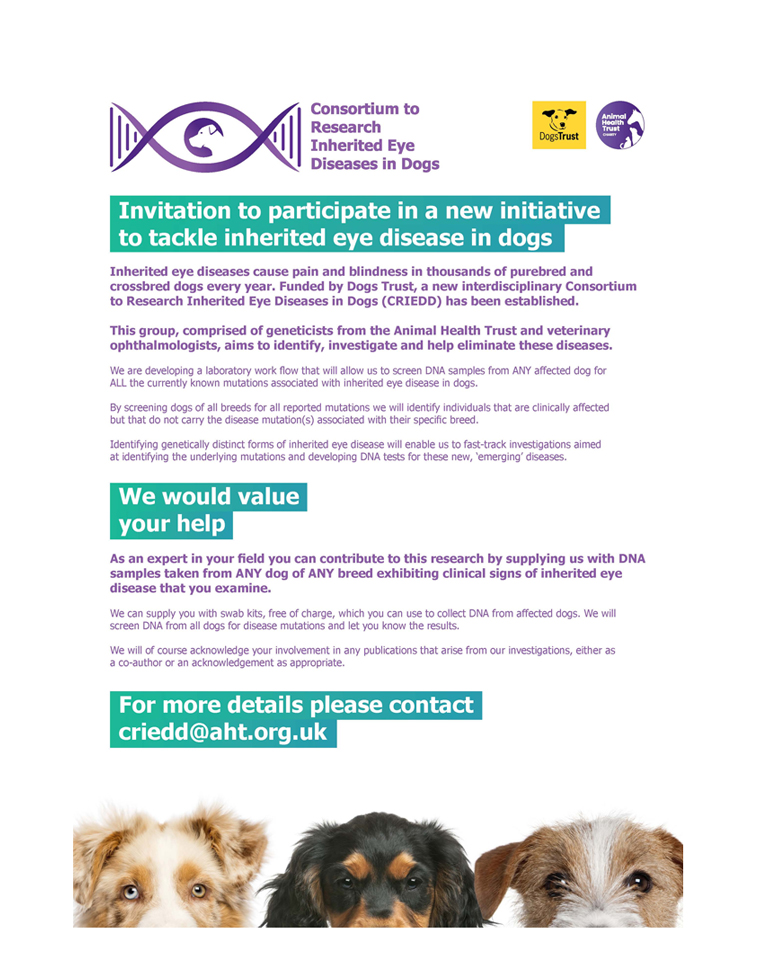 New Animal Health Trust Project – funded by Dogs Trust
"This new project will involve vets, ophthalmologists and research specialists to make a real difference, particularly to new and emerging eye diseases, that we will be able to stop in their tracks.
The plan is to collect DNA from ANY dog, or ANY breed, with ANY (presumed) inherited eye disease. We will screen these samples for ALL known eye disease mutations (currently about 80).
This
will enable us to do two things:
1. Identify new breeds that are segregating mutations previously known to segregate in other breeds. After validation (importantly, not all DNA testing companies do this bit), we will then be able to extend DNA testing to those new breeds and offer bespoke advice to those breeds.
2. Identify dogs with a (presumed) inherited eye disease that do not carry any currently known mutation, and fast track genetic investigations in those dogs to hopefully find their mutation and develop a DNA test. This is the part that will help us halt new diseases in their tracks.
The only eligibility criteria are that
dogs MUST have had their diagnosis confirmed by a veterinary ophthalmologist
(although this doesn't have to be one of the consortium ophthalmologists), and
the ophthalmologist must consider their eye condition to probably be inherited
, or have no obvious antecedent cause.
CRIEDD has its owner dedicated member of staff,
Dr Katherine Stanbury
. Katherine is the main point of contact for all things CRIEDD-related although you may also contact the Kennel Club who will support you in receiving any answers to questions."